BEFORE ACT Prep only 33% of our students are TOPS 20+
AFTER ACT Prep 74% are TOPS 20+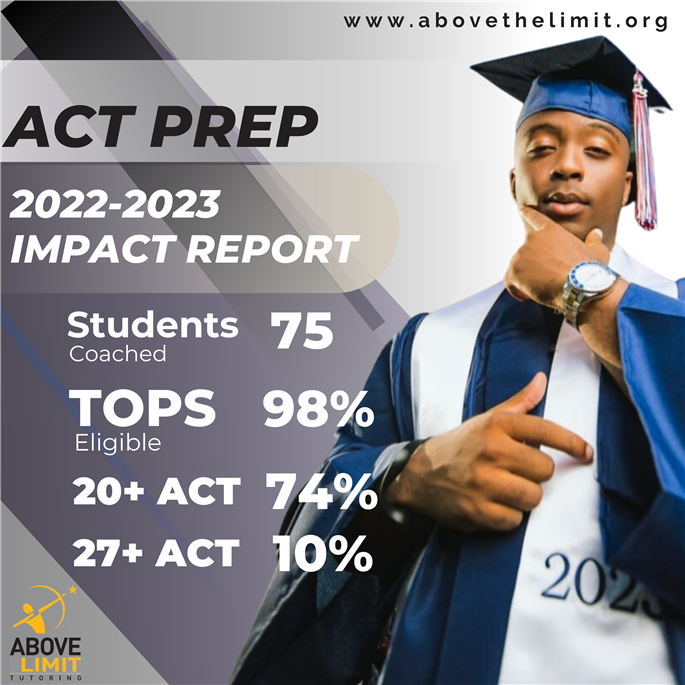 It's generally considered that about 10 hours of studying can lead to about a 1-point increase on the ACT.
On average, our ABOVE THE LIMIT students improve 4 points after 10 private ACT Prep sessions.
UPCOMING ACT TEST DATES
July 15, 2023 Register by June 23 + late fee
September 9, 2023 Register by August 4
October 28, 2023 Register by September 22
December 9, 2023 Register by November 3
February 10, 2024 Register by January 5
April 13, 2024 Register by March 8
*Register for ACT exams at www.act.org
QUESTION: What are students' typical ACT results after taking ACT Prep classes at Above the Limit?
ANSWER: Our students have increased their subject-specific ACT scores up to 6-7 points. This results in overall ACT increases of 4 points or MORE!
QUESTION: When is a good time for my son/daughter to take the ACT?
ANSWER: Students should take the ACT no later than the summer after his/her 10th grade year. We recommend students take the ACT after they have taken Algebra 1 and Geometry. Early is best but waiting too long adds pressure to the student to perform.
QUESTION: What are the benefits of taking an ACT Prep Course?
ANSWER: We strongly recommend taking an ACT Prep course BEFORE testing to
-reduce test anxiety
-maximize test scores
-strengthen Math, Grammar, & Reading skills
- qualify for college entry
- qualify for scholarships
QUESTION: How much do 1-on-1 ACT Prep sessions cost?
ANSWER: When you choose Above the Limit, you hire a TEAM committed to helping your son/daughter succeed. Your investment in ACT Prep sessions will SAVE you thousands of dollars in college tuition fees by positioning your son/daughter to qualify for SCHOLARSHIPS. Cost per 1 hour session is $100/session.
Our students have significantly increased their scores after taking a minimum of 8-10 one hour sessions.
ACT PREP COACHING AT ABOVE THE LIMIT
We specialize in 1:1 ACT Prep Coaching. Our data shows that private ACT Prep Coaching sessions significantly increase students' CONFIDENCE & SCORES. Private ACT Prep Coaching is for students who want to deeply study all 4 parts of the ACT in pursuit of making great gains in his/her ACT composite score and/or specific subject on the ACT. Our Team will strategically comb through every section of the ACT and teach strategies including time management & pacing. Students take practice tests (untimed & timed) and learn strategies and skills that will help them reach their ACT goals.
ALL of our ACT students are invited to participate in a FULL timed & proctored ACT exam the week of every ACT exam date.
Duration: 10 one hour sessions. Cost: $1000*
*Students may register for less than 10 sessions.

Complete the Student Registration Form 2022-23 (located on the site MENU) and we will contact you to schedule your ACT Prep sessions!
**Payment plans are available.**